High-Range Triple Zoom Lens
35x up to 2500x / 5000x Magnification
Incredibly wide zoom range with a triple objective turret.
The dual illumination mechanism provides both co-axial and ring lighting. 
The operator is free to choose either setting or a mix of both in order to cover a multitude of applications. The lighting system is integrated into the lens and no additional cables are required.
Range
Low-Range
Mid-Range
High-Range
2500REZ
High-Range
5000REZ
Magnification
35-250x
140-1000x
350-2500x
700-5000x
Working Distance
10 mm
10 mm
10 mm
3.4 mm
Horizontal View
8.71- 1.22 mm

2.18 - 0.31 mm

0.87 - 0.12 mm

0.43 - 0.06 mm

Lighting Method

Co-Axial, Dark Field and Mixed

ACS Function
Yes
Yes
Yes
Yes

Included with the lense: 
Directional lighting adapter




Co-Axial polarizing adapter

Single wavelength adapter

Ring light polarizing adapter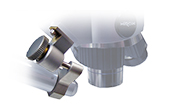 External side lighting adapter